Grenoble
On the Grenoble site, the nodes are deployed at Inria Grenoble – Rhône-Alpes. They are spread across corridors of the the ground floor. This site is very popular for large network and multi-hop experimentations.
server grenoble.iot-lab.info
boards IoT-LAB A8-M3 228 IoT-LAB M3 380
Topology
Grenoble testbed is deployed at a building scale, over the ground floor of Inria building, through corridors in the raised floors and dropped ceilings.
The nodes in the raised floors are fixed horizontally under the tiles.
The nodes in the dropped ceilings are fixed vertically to the wall at a height of 2.6 m and 3.2 m.
Here is the distribution of nodes by corridor:
J corridor

floor: m3-[1-69]
ceiling: m3-[359-380], a8-[1-58]

F1 corridor:

floor: m3-[70-94]
ceiling: a8-[59-77]

F2 corridor:
F3 corridor:

floor: m3-[179-205]
ceiling: a8-[78-94]

F4 corridor:

floor: m3-[206-289]
ceiling: a8-[95-148]

G corridor:

floor: m3-[290-358]
ceiling: a8-[149-228]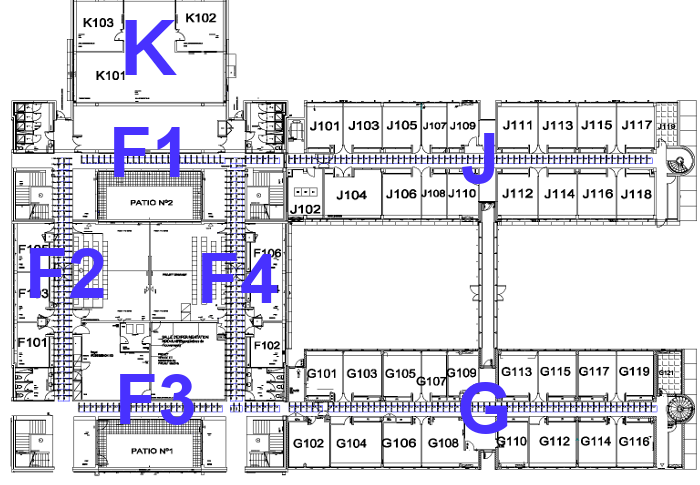 See the video and photos below to visit the deployment across the building.
GPS
Some IoT-LAB A8-M3 boards deployed in Grenoble are equipped with a GPS chip. It allows to synchronize precisely data collection from these nodes together. They are located near the GPS antenna repeater at the corner of corridor J and F.
Here is the list of these 32 nodes:
a8-1, a8-3, a8-4, a8-8,
a8-10, a8-11, a8-13, a8-15,
a8-16, a8-19, a8-20, a8-59,
a8-61, a8-63, a8-65, a8-68,
a8-70, a8-129, a8-130, a8-131,
a8-132, a8-134, a8-135, a8-136,
a8-137, a8-138, a8-139, a8-142,
a8-143, a8-144, a8-147, a8-148
And its abbreviated form: 1+3-4+8+10-11+13+15-16+19-20+59+61+63+65+68+70+129-132+134-139+142-144+147-148